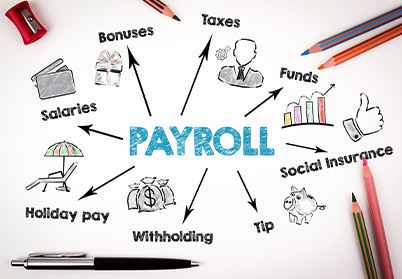 There are a lot of payroll softwares available online. So choosing the right payroll software is also important as it is an important investment. We have provided a list of the top payroll software,click here to check them. In the below information we will show you the important features to look at while buying a payroll software.
Payslip distribution and automatic payroll -Calculating payroll for every month and involves a large set of data from various departments. If you are a big business this is a lot of work if you are doing it manually. A good payroll software automates all these processes and saves your time & improves accuracy.
Statutory Compliance -Legal compliance is a very important thing regardless of the size of the company. If you have a big company this will be a complex process if you do it manually. You must choose a payroll software that calculates your Employee State Insurance (ESI), Professional tax (PT), provident fund (PF), income tax, labor welfare fund (LWF).
Online salary payments - The payroll software allows you to send the employee their salaries directly on the payday automatically.
Payroll reports -The payroll reports are very important for governance, tax filing, budget analysis, and more. The payroll software generates a pre-formatted report which makes your tax filing easier. The payroll software generates ESIC reports for filing ESI returns, EPF ECR reports for EPF returns, Form 24Q for filing quarterly tax deducted at source (TDS).
Leaves and attendance - Go for a payroll software that has a leave and attendance system inbuilt or you can easily integrate your attendance software. The payroll software should be easily linked to your biometric device so that you can easily track the attendance of your employees. Check how many different tools you can integrate. Integrations help you to reduce time, cost, resources, and improve analytics.
Full and final settlements - The process of full and final settlements is a long and complex procedure. The payroll software should be able to automate the calculation of employee's bonus, gratuity, commission, and outstanding leave encashments.
Why Payroll Software is Necessary
Simplified Procedures -Payroll softwares will help simplify the complex procedures and run those processes faster. All the payroll process including data entry to direct deposit to payroll taxes. All these things get automated.
Increase in productivity - Because of payroll automation, your team productivity increases. Because when the HR team has to spend less time on payroll they can actually focus on other aspects of their jobs.
Promotes growth -Automated insightful reports help you in understanding how much your resources are costing you and then you can see if you have a remaining budget for more resources.
Eliminate Human Error -When every process gets automated, it removes the chance of human error.
No need for expertise -To use payroll software, you don't need the expertise to know about payroll.
Cost Effectiveness -By moving to an automated payroll system, you are actually saving a lot of money.